Green Heron in South Carolina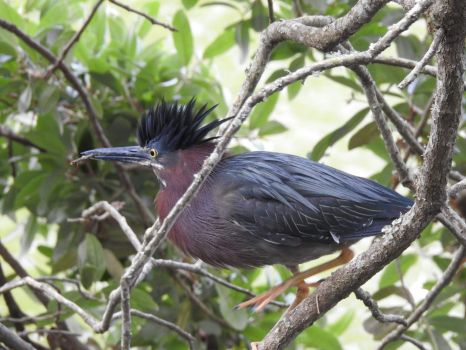 Why are you reporting this puzzle?
This is a green heron; they're small (about the size of a domestic duck). This is one of a pair which is courting next door to a birder friend; this is likely the male, as he's carrying a stick. In the process of courtship, he'll bring sticks to his lady love; she accepts them and they begin a nest (or build onto the male's existing nest from previous years). Eventually she accepts him as a mate. She produces a single egg for each mating, so the more often they mate, in general, the bigger the clutch; the usual is two to six eggs, but there can be a few more. The parents will share incubation and feeding duties. The young will stay with the parents for a month or so after fledging (learning to fly) so as to learn hunting skills. The male of the pair may return to this nest year after year, or he may build a newer, less substantial nest yearly.