Girl with a Pearl Earring - Johannes Vermeer 1665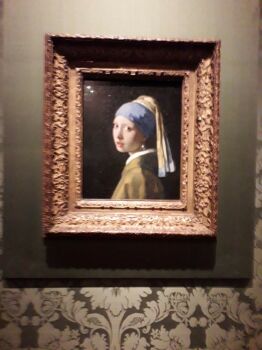 Why are you reporting this puzzle?
Note: Johannes Vermeer painted reflection, as you can see in her eyes, mouth and teeth.
The girl has no pearl at all, you can see a reflection of the light and of her collar. Because it is painted perfectly, it takes on the shape of a pearl, but it is actually an optical illusion.

If interested, watch this YouTube film:
https://www.youtube.com/watch?v=tLArdWq_iu


The Mauritshuis Museum - The Hague - Netherlands

Visited during a four-day trip at the beginning of September 2021
How many accounts can a person have on Jigidi?

1 account; or 2 if you have a creative need for a second account - but this requires transparency in your profile descriptions that you hold both accounts. To trust each other and interact with our shoulders down and hearts soft, we all must know with whom we are communicating.

Read more about what to do if you have more than one account on Jigidi.