New visitor: Yellow-Bellied Sapsucker male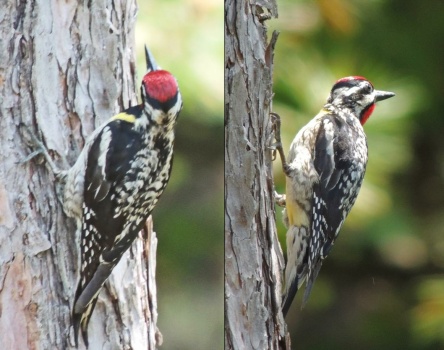 Why are you reporting this puzzle?
Actually, there were two of them.I first saw one a few days earlier, but by the time I got my camera, it had flown into the distance. This time, there were two - male and female (both had red heads, so neither was a juvenile, but this one is a male, because it also has a red chin)? By the tiime I got the camera, I just caught a couple of shots of this one before it shifted around to the back of the tree, then flew off. You can just see some of the (faint) yellow on the belly - along the bib in the photo on the left, and near the tail in the photo on the right.

After that, I left the camera out there, and had one more new visitor - a Rufous-Sided Towhee. Unfortunately, it was in the long grass and not very visible. I got my camera out, but instead of coming out onto the lawn, it flew back into the raspberry bushes, and I didn't see it again.