2015 Christmas 5 -Grasset for Harper's
2015 Christmas 5 -Grasset for Harper's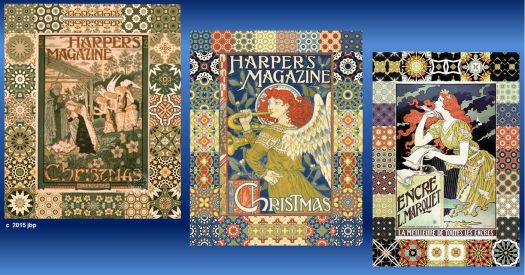 Why are you reporting this puzzle?
1892 , Poster for Harper's Magazine, Eugène Grasset, along with a magazine poster, and an add, for ink, I think…

Grasset was born in Lausanne, Switzerland, his birth year is sometimes stated as 1841. He was raised in an artistic environment as the son of a cabinet designer/maker and sculptor. He studied drawing under Francois-Louis David Bocion (1828–1890) and in 1861 went to Zurich to study architecture. After completing his education, he visited Egypt, an experience that would later be reflected in a number of his poster designs. He became an admirer of Japanese art, which influenced some of his designs. Between 1869 and 1870, Grasset worked as a painter and sculptor in Lausanne. He moved to Paris in 1871 where he designed furniture, fabrics and tapestries as well as ceramics and jewelry. His fine art decorative pieces were crafted from ivory, gold and other precious materials in unique combinations and his creations are considered a cornerstone of Art Nouveau motifs and patterns.
In 1877 Eugène Grasset turned to graphic design, producing income-generating products such as postcards and eventually postage stamps for both France and Switzerland. However, it was poster art that quickly became his forte.

With the growing popularity of French posters in the United States, Grasset was soon contacted by several American companies. In the 1880s, he did his first American commission and more success led to his cover design for the 1892 Christmas issue of Harper's Magazine.