Breeds Show II, Kentucky Horse Park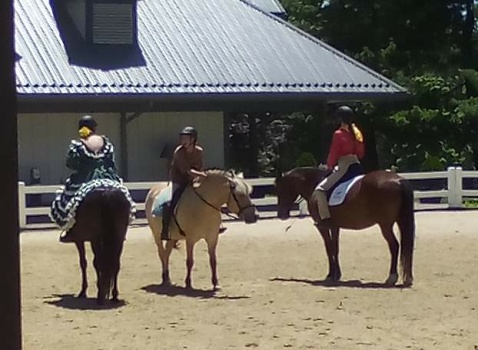 Why are you reporting this puzzle?
From left to right: the Paso Fino, Norwegian Fjord, Mustang.

This Paso Fino was a large horse with an extraordinarily dainty natural gait. (You can see the breed's gaits at https://www.youtube.com/watch?v=4N_KtKEQUmE.)

The Horse Park has two breeds shows a day, featuring (in these post-pandemic days) three or four breeds per show. Each appropriately costumed rider takes an individual horse through all its gaits over the course of several minutes, while the announcer gives background information. After each has had his or her turn, all the horses come out and move around the enclosure, weaving around each other. Then, they pose for a photo-op. After all this, the horses move to spots along the fence for a meet-and-greet (and pets) with the audience.

I recorded a video of both shows, but am not sure I can extract a good still from them.

Kentucky Horse Park, Lexington, Kentucky.