Cinnamon Flycatcher
Cinnamon Flycatcher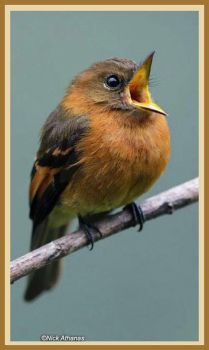 Why are you reporting this puzzle?
The cinnamon flycatcher (Pyrrhomyias cinnamomeus) is a species of bird in the family Tyrannidae. It is the only member of the genus Pyrrhomyias.[2]

It is found in Venezuela, Colombia, Ecuador, Peru, Bolivia and northwestern Argentina. Its natural habitat is subtropical or tropical moist montane forests.

INTRODUCTION:
The Cinnamon Flycatcher is usually common and conspicuous in the Andean cloud forests. This species occurs in South America, from N Venezuela to NW Argentina, between 1,200 and 3,000 metres of elevation. It frequents the shrubby edges of both foothill and montane forests and woodlands.
It is an insect-eater, but it also consumes some berries. It typically performs short sallies into the air to pursue and catch flying insects, before returning to the same perch. It nests in an open cup-shaped structure placed in crevice or on ledge, a few metres above the ground.
The Cinnamon Flycatcher is not globally threatened. It is adaptable to modified habitats such as partially deforested areas.