Brownstone quarried in the Apostle Islands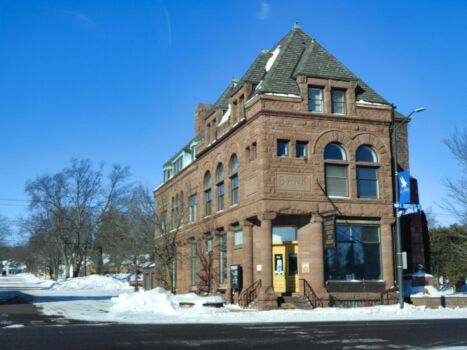 Why are you reporting this puzzle?
Taken January 15, 2022

Located in Washurn, WI, this is an example of a classic brownstone building.

"Spanning the era marked by the end of the Civil War until the beginning of the twentieth century, brownstone quarrying around Chequamegon Bay and on the Apostle Islands became one of the most important industries in the region. Brownstone was used to build massive stone buildings in Chicago, Minneapolis, St. Paul, Detroit, and Milwaukee. The stone quarries of Chequamegon Bay became an important source of this popular construction material in the late nineteenth century, transforming Ashland and Bayfield into thriving hinterland communities that supported the quarrying industry. Although many brownstone quarries developed on the Bayfield Peninsula, brownstone from the Apostle Island quarries was consistently rated among the most beautiful and pure of the brownstones in the country. The quarries' close proximity to the waters of Lake Superior made transportation of the massive blocks relatively easy and inexpensive."