bad photography--puddle abstraction--medium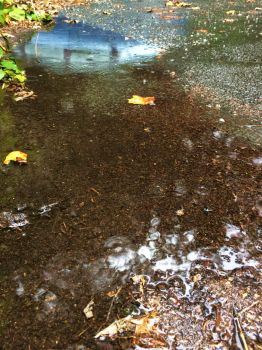 Why are you reporting this puzzle?
I was trying to capture the the circular dance of ripples on the puddle surface as the raindrops merge into groundwater...and there's a tiny bit of that near the blurry blue approximation of the car. But mostly I caught the unfocused deep browns of leaves mulching themselves to earth, edged with a few clustered pearls of sky bouncing up from the waters' surface, and brightly lustering the drowning, fallen foliage.