Z7 Old Point Comfort, VA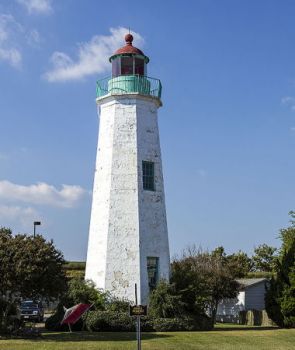 Why are you reporting this puzzle?
Old Point Comfort Light is a lighthouse located on the grounds of Fort Monroe in the Virginia portion of the Chesapeake Bay. It is the second oldest light in the bay and the oldest still in use. The lighthouse is owned and maintained by the U.S. Coast Guard; The keeper's house is owned and maintained by the U.S. Army and is residence for Fort Monroe's Command Sergeant Major. The lighthouse is listed on the National Register of Historic Places.
Records of aids to navigation at Old Point Comfort date to 1775, when John Dams was paid to maintain a beacon there. Its location at the entrance to Hampton Roads made it one of the first points designated for a light by the new United States federal government, and appropriations were made starting in 1800. The light was constructed by Elzy Burroughs and put into service in 1803, though a keeper's house was not built until 1823.