TO : NAN , LUCY , SHARON AND PATTI my American friends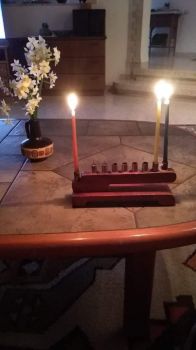 Why are you reporting this puzzle?
This is Hanukkah Menorah that my father made 77 years ago ,from a piece of wood .
After the parents were gone , I renew it and gave it to my brother to keep
and light in the Holiday .As you see , he is doing it and sending us photos .This is from yesterday .Now , you my dear friends and all other Jigidi friends become part of it !!!