Embroidered Cushion cover, ca. 1890, Morris & Co., May Morris, designer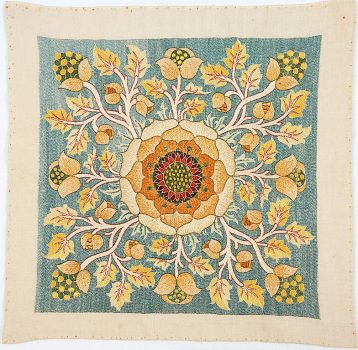 Why are you reporting this puzzle?
May Morris, 1862-1938, British, designer
Dame Alice Mary Godman, d. 1944, English, embroiderer
Morris & Co., 1875 - 1940, English
Cushion cover
ca. 1890
Linen plain weave with silk embroidery
Length: 67.3 cm (26 1/2 inches)
RISD (Rhode Island School of Design) Museum, Farago Art Fund

From the RISD website:
"EXHIBITION HISTORY
Evolution Revolution
February 22 - June 15, 2008
Needlework was to the 19th century what knitting has become in the do-it-yourself craft movement of today. In the mid 1800s, embroidery was reassessed by the design reformers as an important applied art, and many needlework schools were established, sometimes with the help of William Morris.

Morris & Co. produced and sold needle-worked objects as well as embroidery kits complete with patterns and silk floss threads, making it even easier for the amateur to do-it-herself at home. Vast numbers of Morris-style embroideries were made to decorate the home and church. This is a typical example from that era."
What's up with Jigidi and erotica?

Blatant sexual objectification is not allowed on Jigidi. You'll find our review criteria for erotica here, along with a more in-depth rundown on our stand on blatant sexual objectification on Jigidi.