December Birthday/Anniversary Calendar
December Birthday/Anniversary Calendar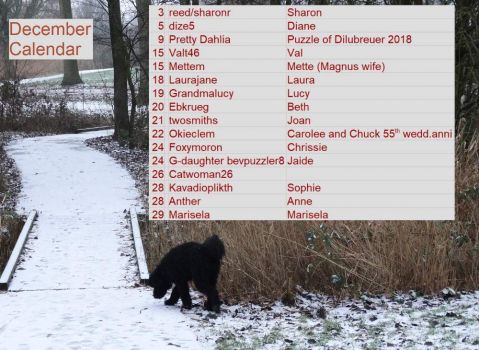 Why are you reporting this puzzle?
If you would like to be listed on my monthly birthday calendar, just add your name and date as a comment on any of my puzzles. Please indicate whether or not you would also like me to make you a birthday puzzle.
I'm sure you'll understand that birthday girls and boys who request a birthday puzzle are expected to return to my site on their special day, or shortly thereafter, to view their puzzle and acknowledge their friends' good wishes. We all want to keep this site a place of friendship and courtesy.

Please post any birthday puzzles which you create under miscellaneous and write 'birthday' in the keywords.

I removed some names from the calendar, these people have either not logged in for a long time or they never respond to their birthday puzzle.