Merry Christmas on a vintage fruit crate label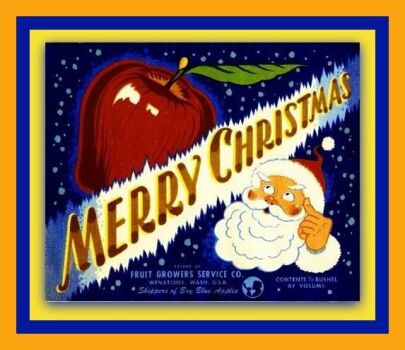 Why are you reporting this puzzle?
Merry Christmas from my part of the world. We have snow for Christmas this year.

Has been a long time since I have been on Jigidi. Posted earlier under my pinknblack avatar; roamed around to see how many of my longtime Jigidi friends are still here and was delighted at how many had already been here today, and was saddened by the loss of several old Jigidi friends.

Life is good and I am still here -- however life has also been hard. I had a terrible reaction to my Covid shots and was hospitalized twice. I am now on full-time oxygen as a result. My cancer is stage four. I have two brain lesions, and have many in my lungs; just finished 15 days of radiation on my breast and had 10 days radiation on my back and have radiation scheduled for January on my ribs and scapula. The bone cancer has been the worst. Woke up from sleeping too hard on my side and had broken a rib, walked past my husband and moved wrong and broke another for a total of four broken ribs, all from doing virtually nothing, things are just brittle and very, very sore.

But life is too short to be anything but happy and I am enjoying my son, my six grandchildren and 4 great grandkids. My 24 year-old grand daughter and three year old son are still living with us, so I am never lonely. I have two little black dogs that keep me company and am getting a blond lab for my birthday next week. My sweetheart of 54 years and I hosted our 5th Christmas dinner last night and I am living my life, not waiting to die.


Today is my rest day. I have a 23 year old grand daughter coming up from Salt Lake tonight and that is exciting. So life realy, really is good. My meds make me drowsy, so I take lots of little naps in between trying to live as normal a life as I can, while I still can.

I think of all my Jigidi friends often and had to come by, say "Hi" and leave a few puzzles.

Thank you for all the years of great conversations, shared love of puzzles, good friendships, shared cultures and just having a safe place to hang out. Merry Christmas from Oakley, Idaho, USA, Planet Earth.
Do you know how to save puzzles for later?

If you want to save a puzzle for later, you can bookmark it, and it will stay in your bookmarks – waiting for you ☺