Hodgson Mill --Ozark County, Missouri....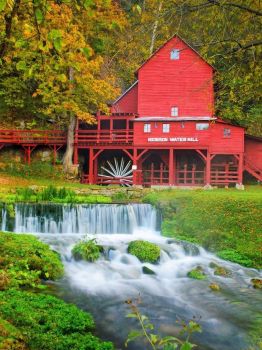 Why are you reporting this puzzle?
The Hodgson Water Mill is a historic grist mill located on Bryant Creek near Sycamore, Ozark County, Missouri. It was constructed around 1897, and is a 3 1/2-story, timber frame mill building covered with red-painted weatherboards. Associated with the mill are the man-made mill pond and the limestone barrel vault constructed at the base of the cliff where Hodgson Spring discharges.

https://en.wikipedia.org/wiki/Hodgson-Aid_Mill -- more history if you want it.....