Beautiful Wales 2 - Harlech Castle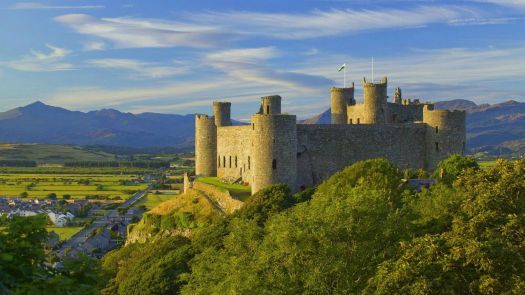 Why are you reporting this puzzle?
Harlech Castle in the heart of Snowdonia National Park is a medieval fortification spectacularly rising from a near-vertical cliff face overlooking the Irish Sea.

The castle was designed and built by James of St George under the instruction of King Edward I during his invasion of Wales. Building began in 1283 and was completed in 1289. It was impregnable from almost every angle, comprising two rings of walls and towers, with an immensely strong east gatehouse. One of its many impressive features includes a fortified stairway that runs around 200 feet down to the foot of the cliff. At the time of construction these steps were accessible by boat, allowing for crucial supplies to be delivered – the sea has now receded several miles. The castle was captured by Owain Glyndwr in 1404 during the Welsh uprisings and re-captured by the English in 1409.

Considered as having 'outstanding universal value', the Castles and Town Walls of King Edward I in Gwynedd were included in the UNESCO World Heritage list in 1986.
What is the filter for?

Some puzzles are shown behind a filter. These puzzles are within our guidelines but still is material of which some will take great offence. Read more about the reasons and workings of the content filter and how you can set your account up to either see or not see puzzles that are shown behind a filter.