Cripta di San Magno, Cattedrale di Anagni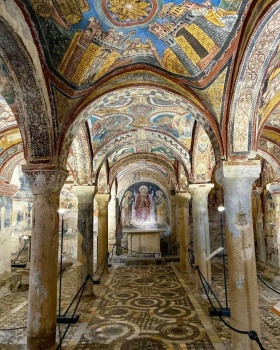 Why are you reporting this puzzle?
Crypt of San Magno, Agnani, Italia was built by Bishop Pietro da Salerno, at the same time as the Cathedral between 1072 and 1104. It was to serve for the preservation of the relics of the saints.

With 3 naves and 3 apses, its twelve columns and its walls, are decorated with a pictorial cycle that tells the story of the Salvation of man. The frescoes are attributed to 3 workshops of artists known as Maestro delle Traslazioni; Ornatist Master and Master of Anagni. They are from the end of the 12th century, the first half of the 13th century.