This Baby Kitty was born on May 31, 2016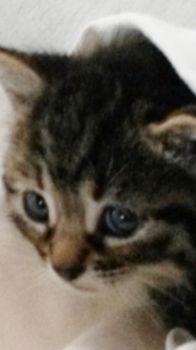 Why are you reporting this puzzle?
This Mama Kitty, she's about eight (8) months old herself, somehow got pregnant with these beautiful kitties. Here is one of the babies. He/she is peaking through the blanket I used to cover them up; as it was getting a little cold that day.

They all have beautiful eyes, little white shadows around their eyes, little white paws, and they are just cute. This was the first moment they met a human, as you can see questions in this little one's eyes. They are about a month or so old now. Unfortunately, where I live, I cannot have animals, so sad. I wish that could change, but not going to happen anytime soon. I rescued these kitties that I now have to leave in someone else's hands.

If you had a kitty, what would he/she look like? I think these are the perfect kitties. The interesting thing is, they all have manners like no other kitties I've seen. We used to breed Siamese full breed kittens when I was a child. I have never seen anything like it.

Please enjoy this puzzle, as I enjoyed rescuing six (6) beautiful kittens I can only hold once.

Have a wonderful day today and everyday. God Bless All!
How many accounts can a person have on Jigidi?

1 account; or 2 if you have a creative need for a second account - but this requires transparency in your profile descriptions that you hold both accounts. To trust each other and interact with our shoulders down and hearts soft, we all must know with whom we are communicating.

Read more about what to do if you have more than one account on Jigidi.