Pierre-Auguste Renoir: Portrait de Victor Chocquet assis (1876)
Pierre-Auguste Renoir: Portrait de Victor Chocquet assis (1876)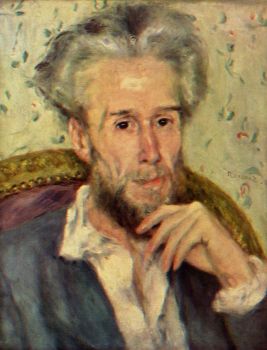 Why are you reporting this puzzle?
Victor Chocquet (1821-1891) war ein französischer Kunstsammler. Er war in Hattenville in der Normandie als Rédacteur à la direction générale des douanes tätig. 1877 ließ er sich als Oberinspektor der Pariser Zollverwaltung pensionieren, um sich mit seinem Monatsgehalt von etwas über 300 Francs ganz seiner eigentlichen Passion, dem Kunstsammeln, widmen zu können.
Im Kunstgeschäft von Julien "Père" Tanguy machte er die Bekanntschaft von zahlreichen impressionistischen Malern; bei einer Auktion im Hôtel Drouot begegnete er bereits 1875 Auguste Renoir, der ihn im Jahr darauf porträtierte. Über Renoir lernte er Paul Cezanne kennen, zu dem eine tiefe Freundschaft entstand; Cézanne porträtierte Chocquet darauf in seiner Pariser Wohnung 198 Rue de Rivoli. Chocquet war der erste, der Gemälde Cézannes sammelte, bis er schließlich 35 Arbeiten von ihm besaß.
(Quelle: www.wikipedia.org)

Victor Chocquet (1821-1891) was a French art collector. He worked in Hattenville in Normandy as a rédacteur à la direction générale des douanes. In 1877 he retired as Chief Inspector of the Paris Customs Administration so that he could devote his monthly salary of just over 300 francs entirely to his real passion, art collecting.
In the art shop of Julien "Père" Tanguy he made the acquaintance of numerous Impressionist painters; at an auction in the Hôtel Drouot he met Auguste Renoir as early as 1875, who painted his portrait the following year. Through Renoir he met Paul Cezanne, with whom a deep friendship developed; Cézanne then painted Chocquet's portrait in his Paris flat at 198 Rue de Rivoli. Chocquet was the first to collect paintings by Cézanne, until he eventually owned 35 works by him.

Victor Chocquet (1821-1891) fue un coleccionista de arte francés. Trabajó en Hattenville, en Normandía, como rédacteur à la direction générale des douanes. En 1877 se jubiló como inspector jefe de la administración de aduanas de París para poder dedicarse por completo a su verdadera pasión, el coleccionismo de arte, con su sueldo mensual de algo más de 300 francos.
En la tienda de arte de Julien "Père" Tanguy conoció a numerosos pintores impresionistas; en una subasta del Hôtel Drouot conoció ya en 1875 a Auguste Renoir, que le hizo un retrato al año siguiente. A través de Renoir conoció a Paul Cézanne, con quien entabló una profunda amistad; posteriormente, Cézanne pintó el retrato de Chocquet en su apartamento de París, en el número 198 de la Rue de Rivoli. Chocquet fue el primero en coleccionar cuadros de Cézanne, llegando a poseer 35 obras suyas.