June 19th is National Martini Day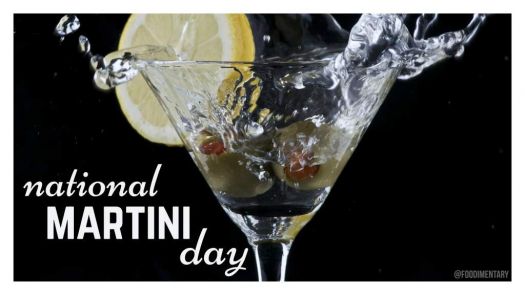 Why are you reporting this puzzle?
From the wisdom of the Foodimentary Calendar.

Five Food Finds about the Martini:

A classic martini is gin or vodka, a splash of dry vermouth (French-white) and an olive or a lemon twist garnish.

Italian immigrant bartender Martini di Arma di Taggia in New York City is said to have invent the drink around World War I.

If a Martini is shaken it is said to be 'bruised' or watered down. Many say stirring the ice will help chill without adding water to the mixture.

Many think the martini is derived from a British-made rifle called a Martini & Henry used by the English army 1870s because of its 'kick'.

It is said that John D. Rockefeller 'brought the Martini to Wall Street' thus establishing the '3 martini lunch'.

Today's Food History

1912 The United States government adopted an 8-hour work day. (I'm still waiting!)

1931 The first commercial doors operated by a photoelectric cell were installed on the swinging doors between the kitchen and dining room of Wilcox's Pier Restaurant in West Haven, Connecticut.

1941 General Mills introduced 'Cheerioats.' The name was changed to 'Cheerios' in 1945.

1987 Ben & Jerry Ice Cream introduced a new Ice Cream flavor, Cherry Garcia.