Yellow-Bellied Sapsucker Juvenile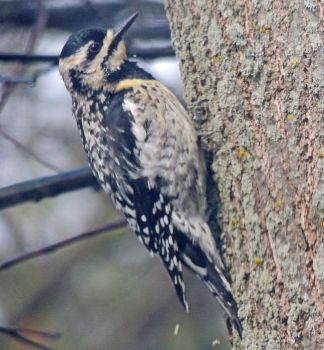 Why are you reporting this puzzle?
Then I got this bonus - I was at the computer, and I saw a bird land on the trunk of the oak tree I can just see out the window. I was able to get photos from the bedroom (through 2 dirty windows, but Photoshop came through), and it turned out to be this juvenile Yellow-Bellied Sapsucker.

I'm assuming it's a juvenile, although I think it's probably undergoing its adult moult. It's neither as brownish nor as streaked as the picture on the Cornell site, but. the adults have a red crown, and the adult males have a red throat.

It's pretty distinctive because of the "S-shaped" eye stripe, which continues down to the shoulder, and the speckled back, compared to the white backs of our more common Downy and Hairy Woodpeckers.

https://www.allaboutbirds.org/guide/Yellow-bellied_Sapsucker/overview
What's up with Jigidi and erotica?

Blatant sexual objectification is not allowed on Jigidi. You'll find our review criteria for erotica here, along with a more in-depth rundown on our stand on blatant sexual objectification on Jigidi.