Slail?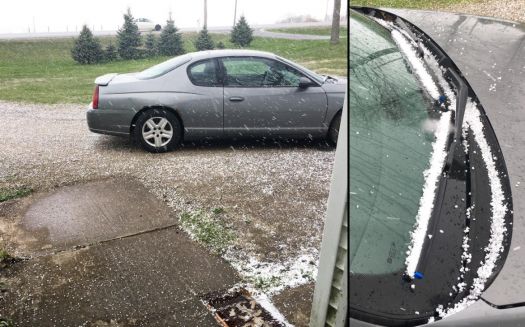 Why are you reporting this puzzle?
Yesterday was a pretty nasty day. The high was only 41°F, and it was windy. At least 5 times during the day, the wind picked up, gusting to 20-30 mph and dumping this odd pelleted precipitation.

It wasn't really hail - hail is ice, and you should be able to hear it hit a metal roof. At the same time, the pellets were awfully big for sleet - up to 3/8" diameter. They were ice in the middle, but the outside seemed more like wet hard-packed snow. "Slail"?

The first time, I went into the grocery store, bought my groceries, and came out to find the sun shining and the cars covered with this stuff. Thus, I was somewhat prepared when it happened again. Still, all afternoon it would switch from cloudy to sunny to "slail" squalls.