May Virtual Party (May21P02) - All Are Welcome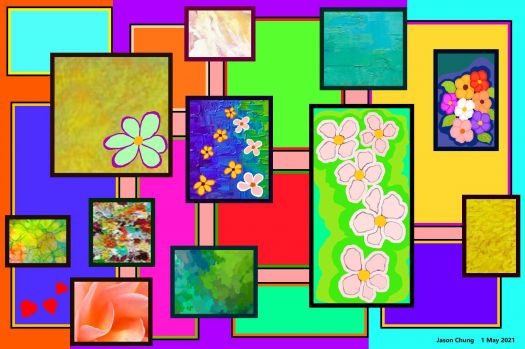 Why are you reporting this puzzle?
"Just don't give up trying to do what you really want to do.
Where there is love and inspiration, I don't think you can go wrong."
- Ella Fitzgerald


Dear Friends, Jigidiers, and Guests,

Here comes May, and off we fly on the Magic Carpets to the Algarve, Portgugal where I am hosting a virtual party to celebrate the birthdays of all May babies and anniversary couples as well as folks who would like to share their joy with us. Everyone is invited and is warmly welcome to this virtual party.

I have selected the Algarve for it is one of the most beautiful regions in Portugal.

We will fly on the Magic Capets to Alvor which is a picturesque, beautiful and charming town in the Algarve, where we will be staying with a Portuguese family in their lovely home in Alvor. Their grandmother, mother and aunties will be preparing homecooked Portguese cuisine for all of us to enjoy.

The family members are bringing in the birthday cakes and anniversary cakes, so let us raise our glass of champagne and toast to the happiness and health of all May babies and wedding anniversary couples. And, I would like to say "A Very Happy Birthday to Pal", our furry friend who has a May birthday. Pal, I would like to present you with a catnip toy in the shape of a birthday cake and give you a hug. It is always wonderful to have furry friends celebrating their birthdays with us.

Webpeggy has bought Petey, Pal's brother to join in the celebration fun. Petey is happy to be here as he celebrated his April birthday with us at the last virtual party which was held in Jeju Island, South Korea. A warm welcome to Webpeggy, Pal and Petey. Yes, Petey, I have a catnip toy for you, too and I am certain that you are going to enjoy the virtual food and have a good time at the beautiful beaches of the Algarve.

During the period of our many days' stay with our hosting family, we will enjoy various kinds of freshly prepared, tasty and hearty Portuguese food. The head of the family (Carlos Pereira) is a chef at a virtual restaurant in the Algarve and he will join the ladies in the preparation and cooking as he has applied for annual leave so that he can cook for us. Some of the tasty dishes made with love and pride and packed with flavours are :

- Sopa de Legumes - Homecooked Portguese Vegetables Soup - Very healthy and a great starter before the main course.

- Camarao (Prawns) - Large Prawns grilled over charcoal.

- Just caught Fish grilled over charcoal served with Boiled Potatoes and a Salad consisting of Fresh Tomatoes, Green Peppers, Carrots, Onions, Garlic, Olive Oil, Vinegar and Dried Oregano.

- Cataplana de Marisco (Seafood Cataplana) - A Portguese Seafood dish which orginates in the southern region of Portugal in the Algarve. The Cataplana is a copper clam-shaped cookware which contains the flavour and heat of the ingredients (Freshly Caught Seafood eg Fish, Lobster, etc lightly fried with Herbs, White Wine and Tomatoes). The aroma and taste of this Seafood stew-style dish is fantastic. This flavourful dish is accompanied with slices of Freshly Baked Bread for dipping the delicious Gravy.

- Frango Piri Piri (Chicken Piri Piri) - Grilled Chicken with a special blend of Spices served with a Hot Piri Piri Sauce, Fresh Salad and Homemade Chips.

- Bife a Portuguesa (Tender Portuguese Beef Steak) - Well flavoured with Whole Cloves of Garlic and Bay Leaf. Served with Sliced, Crispy Potatoes and Fried Slices of Presunto (Portuguese Dry-cured Ham). The Gravy is rich and tasty.

- Ervilhas com Ovos - a Pot of tasty Peas with Poached Eggs.

- Freshly Baked Bread, Salads and Local Wine.

- Tarte de Alfarroba e Amendôas - Almond Carob Cake made with a mixture of Carob, Dried Figs and Crushed Almonds.

- Dom Rodrigos - a traditional Algarvian dessert made with Fios de Ovos or Angel Hair (Egg Threads - Egg Yolks drawn into thin strands and boiled in a Sugar Syrup), Almond and Cinnamon.

Bom apetite :-)

The Pereira family will be pleased to give us information on the best places to visit and things to do in Alvor. Just approach them for assistance.

Some of their recommendations are visits to :

BEACHES - eg. Praia de Alvor, Praia do Barril, Praia de Benagil, Praia do Carvalho, Praia da Falésia, Praia da Luz, Praia de Marinha, Praia da Rocha, Praia Sao Rafael, Praia Do Submarino, Praia dos Três Irmãos, Praia do Vau, and Praia de Vilamoura.

TOWNS AND VILLAGES - eg. Albufeira, Carvoeiro, Faro, Ferragudo, Lagos, Odiáxere, Olhos de Agua, Portimao, Praia da Rocha, Sagres, Tavira, Vila Real de Santo Antonio and Vilamoura.

FARMERS MARKETS - Mercado de Loulé where Fresh Fish, Fruits, Vegetables, Figs, Spices, Hot Sauces and Chocolate Cakes, etc are displayed for sale.

We can participate in the following activites :

Take a walk on the Boardwalks of Alvor – Elevated walkways across the sand dunes and mud flats of Alvor's Nature Reserve. We will have a great view over the Alvor's river estuary.

Take a Boat Trip – Rent a boat for a trip around the beaches nearby and explore the many beaches, caves and cliffs of the western Algarve.

Visit Theme Parks and Water Parks.

I have prepared some souvenir items for you all to take home :

Pastel de Nata (Custard Pastry) - Small Open Pastries with a Sweet Custard Filling. We purchased the ones in the Belem area of Lisbon, so they are named Pastel de Belem.

Doce Fino do Algarve (Marzipan Sweets) - Small Marzipan Treats shaped and sculptured into fruits, vegetables, trees, animals, etc. These colourful and lifelike desserts are made from Almond Paste.

Queijo de Figo - A Cake made from Almonds and Figs, Cinnamon, Chocolate Powder, Aniseed and Sugar.

Dear friends, thank you for joining us at this May Virtual Party and for solving my puzzle. I hope that you have a wonderful time.

I look forward to seeing you at my next Virtual Party which will be held on 1 June 2021. My birthday is on 15 June, so come and let us celebrate together.

Cheerio,
Jason :-)

This puzzle is posted in 4 sizes - 12, 96, 260 and 600 pieces.
Please enjoy and have fun solving this puzzle.


Puzzle 814

jasonchung2 is my main account.
I also post puzzles at jasonchung (my second account).
jasonchung1 (my third account) is now a sealed account, however, you can still solve puzzles there.