Chillin' In Nether-Bonga........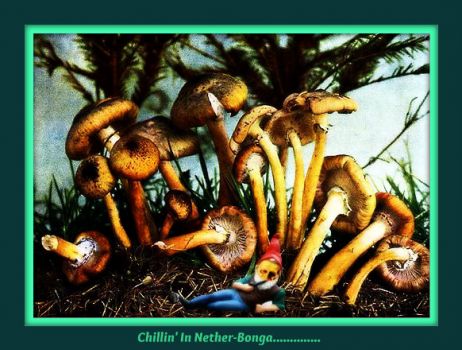 Why are you reporting this puzzle?
This oasis of joy is the last place where vegetation is to be found, before penetrating the perilous,
barren wastes of Nether-Bonga (the land without tadpoles) - home of the fearsome and dreaded
Pterodactylus Bugosisimus........
It is here that I choose to gather strength for the arduous journey ahead, whenever I deliver mail to that desolate region.......After a few nibbles of these majestic, magical, monster-size mushroom-thingys, I feel prepared to face anything that may present itself to my imagination - and, believe me, plenty of wonders do appear before my eyes!.........
For some reason, in this magical realm, dreams seem to blend with reality, and time stands still.......I once set out on a day trip to Nether-Bonga and returned to Bonga-Bonga two weeks later.......needless to say,when I got home - dinner was cold........