When the rain comes...
When the rain comes...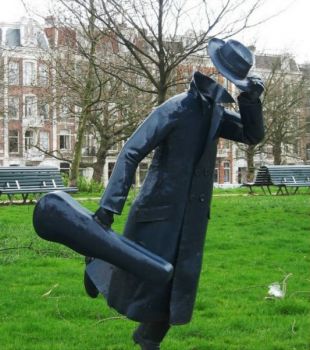 Why are you reporting this puzzle?
1. Thanks to modern technology, scientists have been able to positively conclude spelling bees cannot actually spell
2. The scientific spelling of Macropodidae, is M-a-c-r-o-p-o-d-i-d-a-e
3. In Arizona, a law that was passed in 1842 that is still on the books. The law clearly states that within city limits, it is illegal to do anything that is illegal
4. How much wood would a woodchuck chuck if Fuzzy Wuzzy had no hair and Peter Piper picked a peck of pickled peppers while Susie's sister sewed socks for soldiers and she sells sea shells down by the seashore while I scream, you scream, we all scream for rubber baby buggy bumpers. I will post the answer on the third Friday previous to the second Tuesday of the last lunar eclipse
5. The Dave Clark Five, often called the DC5, was an English rock and roll band formed in England in 1957. The Dave Clark 5 had many hit singles, including "Glad All Over" "Bits and Pieces", and "Catch Us If You Can". It wasn't until the band broke up in 1970 that an investigative reporter discovered the birth certificates of the DC5 and determined the "5" in the name "Dave Clark 5" meant there were 5 members in the band. It was previously believed the "5" stood for boron, the 5th element in the periodic table of elements. Boron had no birth certificate, which in turn, dismissed the belief that the Dave Clark 5 was merely 5 chunks of musically inclined boron.
6. Many now believe our companion, mpp, will shed her cloak of invisibilitiness and return to her home in Jigidiland as soon as her alter ego "Gort" completes the filming of the remake of "The Day The Earth Stood Still" (1951)
7. Thanks to the scientific advancement of "phonics", it is now believed that "blue" and "blew" are two completely different words. (Blue claims to have been at home sound asleep while Blew has no alibi for his whereabouts on December 6, 2019)
8. Paleontologists, with the aid of carbon dating, radiometric dating and the skeletal remains of a Pet Rock, have determined that the Pet Rock is a direct descendant of Stonehenge in England
9. In today's modern English, the words "occupy" and "pudding" are not only spelt differently, they both have a distinctively different meaning
10. NASA has announced they are hosting a casting call for their upcoming epic, "Mars landing, 2032". NASA is looking for actors/actresses experienced in simulating floating in weightless conditions, capable of deceiving the public and has the ability to remain silent after the movie is released. The science fiction movie, "moon landing, 1969", was a tremendous success and "Mars landing, 2032" is expected to be a top money maker in 2032. Roles are limited, so please do not delay submitting your resume'. (Fans of Monty Python are encouraged to schedule a screen test ASAP).