Zinnia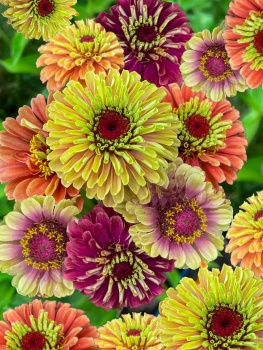 Why are you reporting this puzzle?
Want Zinnias like this? Plant the Queen series of Zinnias. The individual flowers are smaller, but the colours are more interesting than your standard solid red, purple or orange Zinnia.

The varieties in this photo I grew last summer.

Queen Lime Blush
Queen Lime Orange
Queen Red Lime

I'll be growing them again this summer with seed that I saved. Zinnia are one of those things that you can buy the seed once, and then save your seeds in the fall for next year.