Rebob worships his favorite lamp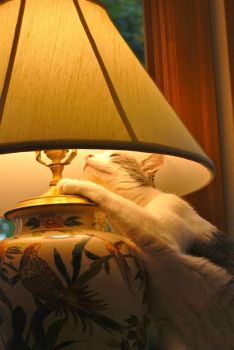 Why are you reporting this puzzle?
Rebob is named after Bob, hospice kitty we fostered. Bob was a lovely, sweet and very sick boy. We loved him dearly but had to let him go over the Rainbow Bridge. A few months after he passed, a straggly, kitten was tossed over our back fence. When we brought the kitten into our home I looked at him as said, "Are you little Bob come back to us?" The kitten meowed and rubbed his little head on my foot. Ever since he's been called Rebob. We love him very much.