Hanging the Laundry Out to Dry 1875 Morisot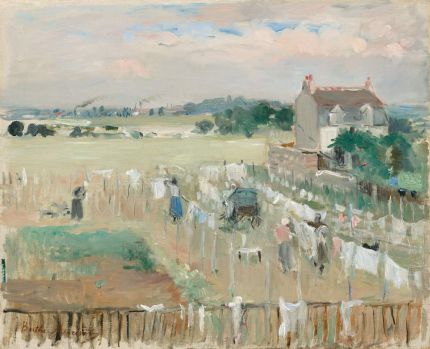 Why are you reporting this puzzle?
Français : Suspendre le linge pour sécher
English: Hanging the Laundry out to Dry
Date 1875
Medium oil on canvas
National Gallery of Art Blue pencil.svg wikidata:Q214867
Accession number
1985.64.28 (National Gallery of Art) Edit this at Wikidata
Object history Purchased 1876 by Dr. Georges de Bellio [1828-1894], Paris; by inheritance his daughter, Mme Ernest Donop de Monchy [née Victorine de Bellio, b. 1863], Paris. (Paul Rosenberg and Co., London, New York and Paris); sold 1950 to Mr. Paul Mellon, Upperville, VA; gift 1985 to NGA.
Source/Photographer National Gallery of Art, Washington, D. C., online collection
Permission
(Reusing this file)
This is a faithful photographic reproduction of a two-dimensional, public domain work of art. The work of art itself is in the public domain for the following reason:
Public domain
This work is in the public domain in its country of origin and other countries and areas where the copyright term is the author's life plus 100 years or fewer.

Dialog-warning.svg You must also include a United States public domain tag to indicate why this work is in the public domain in the United States.

This file has been identified as being free of known restrictions under copyright law, including all related and neighboring rights.
The official position taken by the Wikimedia Foundation is that "faithful reproductions of two-dimensional public domain works of art are public domain".
This photographic reproduction is therefore also considered to be in the public domain in the United States. In other jurisdictions, re-use of this content may be restricted; see Reuse of PD-Art photographs for details.
How does the notifications system work?

When you hold an account on Jigidi, you will receive notifications when someone tags you, upon a new comment on a puzzle you follow and upon new puzzles from a puzzle creator you follow.