Great-tailed Grackle Male, North Shore 3 Trail, San Diego, California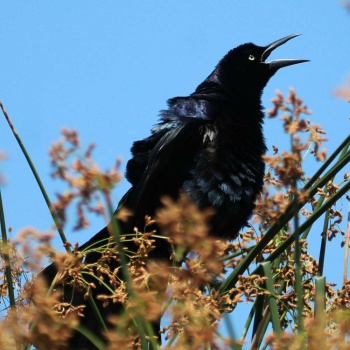 Why are you reporting this puzzle?
I walked down to the edge of Lake Hodges Wednesday morning and was surprised that this grackle stayed in the bush, about 10 feet from me. All the other birds, including grackles, flew off. He was facing me and shrieking his head off, probably at the other males in the area. I couldn't get a good open-beak shot head-on so I asked him to give me a profile. To my amazement, he turned 90%! I do love a cooperative bird, so I took a few shots and then tossed a handful of duck food on the ground. I glanced back after walking a few steps away and he had hopped down and was happily gobbling up his reward. :-)
Do you know enough about copyright?

When you share material online, it's necessary to know what copyright law says about sharing online material. We have created a copyright video guide for you that will give you a basic understanding, along with 4 tips on how to share material within the boundaries of copyright law.