Kostel sv. Petra a Pavla v Konecchlumí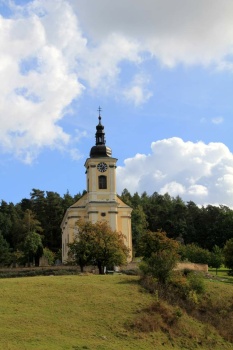 Why are you reporting this puzzle?
Zbudován v letech 1728-29 pod vedením stavitele Donato Morazziho, nákladem Františka Norberta Trauttmansdorffa. Jednolodní barokní stavba s hranolovou věží s bání. V r. 2001 bylo v kostele instalováno 14 deskových obrazů křížové cesty od Vladimíra Komárka.

Built in 1728-29 under the direction of builder Donato Morazzi, commissioned by František Norbert Trauttmansdorff. A single-nave baroque building with a prismatic tower with a mine. In 2001, 14 panels of the Stations of the Cross by Vladimír Komárek were installed in the church.
What is the filter for?

Some puzzles are shown behind a filter. These puzzles are within our guidelines but still is material of which some will take great offence. Read more about the reasons and workings of the content filter and how you can set your account up to either see or not see puzzles that are shown behind a filter.