Uncle Lela's Fascinating Facts.....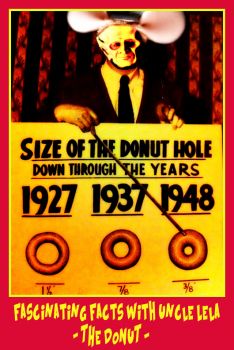 Why are you reporting this puzzle?
As negotiations with Dr.Egg and Dr.Egg, regarding the "Who stole Big Ben?" case are still going on....
indeed, still ongoing, I take this opportunity to present some extremely interesting facts for doughnut-lovers worldwide......
It has been noted by eminent Bugosians that over the years, the size of the doughnut hole has diminished considerably - a phenomenon which we can only put down to global warming.......Doughnuts, sharing a simbiotic relationship with our planet, are warming considerably and expanding (as are our children)
- to such an extent that their holes are diminishing in accordance with the law of cause and effect,
represented by the equation %$*#=5666680x2, where $ = the hole......
Please join us in meditation as we concentrate on the restoration of our holes........ommmmmmmmmmm......
How does the notifications system work?

When you hold an account on Jigidi, you will receive notifications when someone tags you, upon a new comment on a puzzle you follow and upon new puzzles from a puzzle creator you follow.