Marsaxlokk, Malta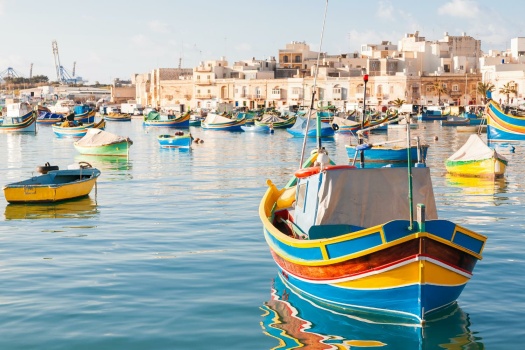 Why are you reporting this puzzle?
Today we visit
Marsaxlokk
in beautiful Malta in the Mediterranean basin. The village population is 3,660 (per 2019), and they share 4.7 km2 (1.8 sq mi).
Marsaxlokk is a small, traditional fishing village in the Southeastern Region of Malta. Since antiquity, Marsaxlokk has been inhabited and well-known as a fishing harbor and a port to the outer world.
The colorful boats in the foreground of Today's Daily Jigsaw Puzzle are
luzzi boats
and
kajjik boats
; there are plenty in Marsaxlokk harbor.
Both boats are traditional Maltese fisher boats; painted in traditional red, blue, and yellow colors. Beyond fishing, boats are also used for sailing locals and tourists across the Grand Harbour.
On the harbor, you'll also find the big market, where locals sell fresh fish and fruit – and
this is indeed something to behold
!
Do you know how to save puzzles for later?

If you want to save a puzzle for later, you can bookmark it, and it will stay in your bookmarks – waiting for you ☺