Problem Child in Abstract
Why are you reporting this puzzle?
I don't have a lot of pictures of our oldest feline, Cat. Because this. She can sense when I pick up my phone for a photo...
More jigsaw puzzles in the cats category
3:20
donlise
4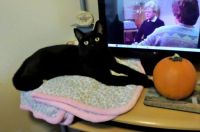 13 July 2020 - 14 November 2015
How do you follow a puzzle?

When you follow a puzzle, it means you receive notifications about new comments on the puzzle.