Lenara helping with laundry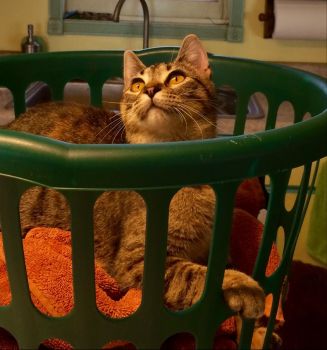 Why are you reporting this puzzle?
We found Lenara under our front tree, crying piteously. Since we live in the middle of farm fields, people dump unwanted animals. I went outside & sat on the ground, & she climbed into my lap. I fixed up a place in our down bath for her & gave her some food which she wolfed down. I did call our neighbors, but she wasn't one of their barn cats. Took her into vet the next day, & she was healthy except for ear mites. So after treating her, our 3 other cats, & our 4 dogs, Lenara wormed her way into our hearts. She is a Torbie. Tortie with tabby markings. She also trills & talks. And she has some agouti hair shafts. Then I noticed some of her hair has white tipping. Domestic cats do not have that gene, so I searched the web & came up with the Caracal, a small wild cat that has been cross bred with domestic cats and has white tipping to their hair shafts. So my best estimate on Lenara's heritage is Siamese, Abyssinian, O gene for her Torby coloring with a titch of Caracal. She's a gem.
0:43
Juanca2810
26
7:01
KatrinBehrends
5
13 July 2019 - 12 February 2017
Do you know how to save puzzles for later?

If you want to save a puzzle for later, you can bookmark it, and it will stay in your bookmarks – waiting for you ☺