June Virtual Party (Jun21P02) - All Are Welcome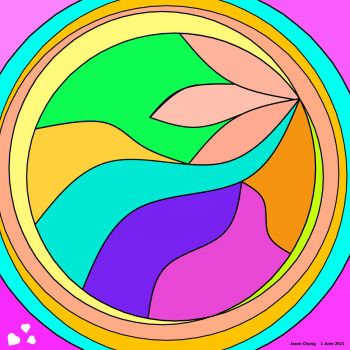 Why are you reporting this puzzle?
June the month of months,
Flowers and fruitage brings too,
When green trees spread shadiest boughs,
When each wild bird sings too.

- Christina Rossetti


June has arrived and I am hosting a virtual party in Colmar, Alsace, France to celebrate the birthday of all June babies, wedding anniversaries and all joyous occasions.

The Magic Carpet has flown us to charming and picturesque Colmar with its attractive half-timbered buildings, roofs in flat tiles and cobbled streets.

I have always been fascinated by the architecture in Alsace as well as by its rich cultural and historical heritage, so I decided to spend my birthday month of June at this interesting place.

We will be staying at a luxury virtual hotel, adorned with potted flowers on the windowsills. This hotel is located near the Old Town and it is, therefore, within walking distance to most of the top attractions in Colmar, for example, Little Venice. The hotel has 24-hour front desk, an on-site Michelin-starred restaurant, lounge area, wellness centre and a beauty salon.

As we all gathered at the spacious lounge, I see our virtual servers bringing in the birthday and wedding anniversary cakes. Let us all raise our glass of champagne and toast to all the birthday boys and girls as well as wedding anniversary couples and wish them lots of happiness and good health. May all their dreams come true. May this year be filled with new and wonderful things for all of them.

The old town of Colmar (Capital of Alsatian Wine - capitale des vins d'Alsace) is one of the most beautiful places in all of France because of its well-preserved half-timbered houses, architectural landmarks, quaint cobblestone streets, arching bridges, canal-side neighbourhoods, special old-world ambience and the Launch River.

We will be taking a Colmar Canal Tour as it is the best way to see the brightly painted and impeccably decorated houses with vibrant potted flowers along the river.

After the canal cruise, we will walk along the streets and visit the shops, enticing little boutiques and antique shops for "Made in Alsace" products to take home as souvenirs of this wonderful place.

Let us take a stroll through Colmar's Old Town which is a large pedestrianized zone and the heart of local life. We will enjoy its well preserved heritage - museums, historical and religious monuments, restaurants, cafés, shops, little boutiques and half-timbered houses.

A visit to "Little Venice" (la Petite Venise - Quartier de la Krutenau) is a must and a photographer's dream as it is a picture-perfect neighbourhood with its canal-side restaurants, quaint pedestrian bridges, winding cobblestone streets lined with typical half-timbered colourful Alsatian burghers' houses decorated have potted flowers. There are lots of lush greenery and willow trees that line the river. It is a romantic and pleasant part of Colmar. The ambience here is very pleasant.

We can also visit the Quartier des Tanneurs (the Tanners' Quarter) - It is a beautiful neighbourhood with canals and cobblestone streets lined with half-timbered 17th and 18th century houses. In this neighbourhood, we can visit the Maison des Chevaliers de Saint-Jean (House of the St. John's Knights) as it is one of the most unusual Renaissance mansions in Alsace.

Another place of interest is the Quai de la Poissonnerie (Fishmonger's dock - the old fishmonger's district) - It is an idyllic quarter of quaint half-timbered houses where fishermen once lived and sold their fishes in the 16th century.

Let us also visit Marché Couvert Colmar - the big covered market in the Little Venice district. This market opens from Tuesday to Saturday and has about twenty merchants who offer various fresh quality products - fresh meat, fresh fish, bakery items, cheese, good olive oil, flowers, etc. The red and orange building, built in 1865, is made of iron bricks, cast iron and steel frame. There are café options in the market where we can have dishes of the day.

An interesting place to visit is the Musée du Jouet de Colmar (The Colmar Toy Museum) which displays over 1,000 toys from all over the world that has been created from the 19th century to the present day. Some of the toys on display are dolls (including Barbie dolls), teddy bears, stuffed animals, miniature train sets, half a mile long train display, model cars, rocking horses, tricycles, and board games. Modern Robots, LEGO creations, video games and toys that encourage the discovery of science concepts are also displayed here. There are also temporary exhibitions on different topics, puppets shows and interactive animations.

Parc du Champ de Mars - This park is located at the very heart of Colmar and is the "Green Lung" of the town. It is a pleasant place to take a stroll.

The Ancient Carousel of 1900 installed in the park, will enchant us with its wooden horses, fairy tales carriages, twisted ramps. It has reproductions of 1900 posters, describing life in Colmar during the time of its construction. "The Carousel Delights" - an ancient style kiosk offers Crêpes (pancakes), Waffles, Artisanal Ice Cream and Candies.

Other places of interest and heritage include :

Place de la Cathédrale which is in the very heart of Colmar's old town.

The Collégiale Saint-Martin (Saint-Martin Collegiate Church) - 14th century Gothic architecture. Its yellow sandstone has stunning glowing colours at dawn and at dusk.

Ancien Corps de Garde (Former Guard House) of Alsatian Renaissance architecture.

Adolf House (Maison Adolph) - The town's oldest surviving private house

The Eglise Saint-Matthieu (13th-century Protestant church). It has excellent acoustics.

Pfister house - Beautiful 16th century Renaissance architecture with mural paintings and a double wooden oriel.

The Musée Bartholdi - It exhibits the works of Auguste Bartholdi - the most successful 19th century sculptor who designed the New York Statute of Liberty.

La Maison des Têtes (House of Heads) - This 17th century late German Renaissance style house has more than 100 wincing masks sculpted on its facade.

Musée Unterlinden - S prestigious and world renowned museum. It has a vast collection of paintings and sculptures from the Middle Ages to Renaissance as well as contemporary works of famous 20th century artists.

Eglise des Dominicains (the Dominican Church) - 14th century early imposing Gothic architecture. It has high arcades and splendid stained-glass windows.

Koifhus (Ancienne Douane - Old Customs House) - 15th-century building with decorated stained glass windows, sandstone balustrade and Renaissance styled stairs.

Chapelle Saint Pierre - The lovely mid 18th century Baroque church of Saint Pierre.

On Friday and Saturday evenings, we will enjoy the beautifully lighted town of Colmar with its original light show that varies in colours and intensity. It is magical.

Of course, what is a visit to Alsace without trying some of its local cuisine. During our stay in Colmar, we will have ample opportunities to taste the amazing food of this gorgeous place. Let me introduce you to some of the food that we will be having over the days.

Colmar, the capital of the Alsace wine area and a city renowned for its gourmet dishes is a delight for our palette and for our eyes. This wonderful place has fine wines and flavourful culinary specialities. Alsace cuisine is close to German food. The typical dishes of this area are heavier, than other French regions and are focused on farm or peasant fare.

Restaurants labeled with the word "wistub" in the region are the ones serving traditional Alsace dishes.

Here are some classic specialities :

Baeckeoffe - An Alsatian casserole of a mix of Cubed Beef, Lamb and Pork which have been marinated in Alsatian Dry White Wine with Vegetables (Carrots, Onions, Juniper Berries and Spices) for half a day and then baked in a bread-dough sealed oval clay terrine together with Leeks and Potatoes. Thyme, Parsley, Garlic and Marjoram are used for flavouring. This dish is a typical dish in the French region of Alsace.

Tarte Flambée or Flammkuchen (Flammekueche) - a Thin Crust Alsatian and German-styled Pizza prepared using quality products and baked in a hot bread oven for a short time. It is the Pizza Dish of the Alsace region of France. Its main ingredients are Leaned Smoked Bacon, Onions, and covered with a Cream made from sour cream, and lightly seasoned with Salt and Pepper. Finished of the Flammekueche with a fine Alsatian beer or a Gewürztraminer. Tarte Flambée, this incredibly delicious dish is light and it is a great starter though is typically a main meal for a lot of diners.

Fleischnacka - An Alsatian dish made with Cooked Meat Stuffing (eg leftovers from pot-au-feu), Eggs, Onions, Parsley, Salt and Pepper. All these ingredients are rolled in a Fresh Egg Pasta forming a tube. The tube is then cut into slices which are cooked on both sides with butter in a frying pan. Fleischschnackas are served with Broth and a Green Salad.

Choucroute - a local variety of Sauerkraut (sour cabbage). Cabbage is finely shredded, layered with Salt and Juniper and left to ferment in wooden barrels. After fermentation, it is rinsed and always cooked in White Wine and it tastes less sour and more delicate than German Sauerkraut. Traditionally it is served with Strasbourg Sausage, Bacon, or a selection of Pork and Delicatessen Meats . It is served alongside with Roasted or Steamed Potatoes or Dumplings. Choucroute can also be served with Poultry or Fish.

Matelote du Rhin Fish Dish - A stew of Mixed Freshwater Fish dish cooked in Alsace Wine.

Coq au Riesling (Poulet au Riesling) - Chicken cooked in Riesling Wine. Other ingredients would include Shallots, Garlic, Mushrooms, Heavy Cream, Chopped Parsley.

Spätzle - Pasta made with Fresh Eggs. It is served as a side for meat dishes with gravy.

Schupfnudeln (Bubespitzle or Wargenudle) - Rolled Noodles, similar to Gnocchi (little, potato noodle dumplings) made with Rye and Wheat flours, Egg and Potatoes. The Noodles are then boiled, deep-fried or pan fried. If they are boiled first, they are then sautéed to a golden brown in a pan with Sage-butter and Cubed Bacon and served with Choucroute. A sweet version of it is served with Poppy Seed, Melted Butter and Sugar.

Rösti - An oven-baked potato-and-cheese dish.

Foie Gras - An Alsatian Speciality Alsace. It is well known since the 17th century.

Cordon Bleu - A dish of Meat wrapped around Cheese, then breaded and pan-fried or deep-fried.

Vol-au-vent - A small crust of Puff Pastry, whose interior is garnished with small pieces of Meat or various Fish in Sauce, serving as a starter.

Pretzel (Bretzel) - It is a symbol of Alsatian baking. It is a kind of savoury little brioches which is tender inside and slightly crisp of the surface. Its crust is garnished with rock salt. It is he perfect snack on the go if you pass by a shop selling them.

Elsässischer Apfelkuchen (Alsatian Apple Cake) - It is a variant of the Apple Pie. Its topping consists of Sour Cream, Vanilla Sugar and Eggs. Apple Halves are pressed in the crust and an Egg Cream (will then set when baked) is poured over the Apples.

Gugelhupf (Kougelhopf)- A sweet yeast based cake traditionally baked with Raisins and Almonds in a distinctive circular Bundt mold. It is popular in Alsace.

Mandeltarte - A flat round Almond cake. Its crust is covered in Almond Cream and baked.

Fromage Blanc Tart (German-style Cheesecake) - A light and airy Cheesecake from Alsace.

Mont-Blanc (Torche aux Marrons) - A delicious cake made from chestnut cream and meringue made to look like Mont Blanc.

Strudel - A type of Layered Pastry with a Filling that is usually sweet.

Bibeleskaes - Unsalted Cheese Curds produced in the making of Munster Cheese, Cream, Garlic, Chives, Salt and Pepper. It is generally served with Jacket Potatoes at the end of a meal.

Munster Cheese - A strong smelling soft white cheese with an orange, edible rind has a strong taste. This Cheese is made with Whole, Raw Milk from grass-fed cows. It is often eaten with boiled potatoes and onions as a light supper.

Alsace Wines - Alsace produces some of the world's most noted dry Rieslings.

Alsace Beers from Perle Brewery, Alsace.

Alsace Top Quality Fruit Juices : Les Jus de Fruits d'Alsace, BIO Grape and Cherry Juice , BIO Peach and Grape Juice.

Mineral Waters from Alsace - Wattwiller Mineral Waters.

Dear friends, I hope that you have enjoyed this virtual party in Colmar, Alsace.
Please stay as long as you like. You can return and leave the party as you wish and there is no need to let us know that you will be leaving the party.

I look forward to seeing you at my next Virtual Party which I will host on 1 July 2021.
I hope to meet up with all of you in July, especially if you have an occasion that you would like to celebrate with us :-)

Cheerio,
Jason :-)

This puzzle is posted in 4 sizes - 9, 100, 256 and 576 pieces.
Please enjoy and have fun solving this puzzle.


Puzzle 818

jasonchung2 is my main account.
I also post puzzles at jasonchung (my second account).
jasonchung1 (my third account) is now a sealed account, however, you can still solve puzzles there.
How does the notifications system work?

When you hold an account on Jigidi, you will receive notifications when someone tags you, upon a new comment on a puzzle you follow and upon new puzzles from a puzzle creator you follow.