🍂🎨 🖌️ Echoes of autumn 🖌️🎨🍂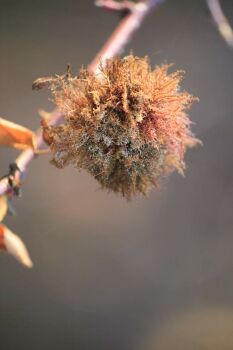 Why are you reporting this puzzle?
Insect galls on a rose hip branch.
"Hairy balls" appear on the branches of rose hips. They are caused by the insect Cynips quercusfolii, which lays eggs in the tissues of rose branches and creates these interesting formations with a diameter of 6 to 8 cm. The mossy structure is home to the larvae of this insect, and some other insect species also use this shelter during the summer. So we can see a small insect hotel in the photo.