This is NOT Morocco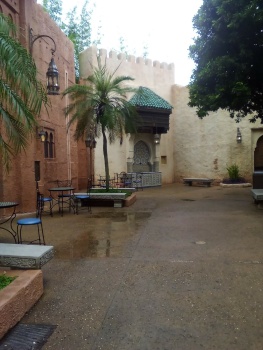 Why are you reporting this puzzle?
It is the Morocco pavilion in EPCOT's World Showcase. King Hassan II of Morocco took an active interest in the design of this pavilion, even sending his own craftsmen to assist with its construction. The result is a beautifully constructed area that stands apart from the rest of Disney World with mosaics, tilework, and fountains complementing the information about Morocco found within.

Until the Covid lockdown, Morocco continued to underwrite and operate the pavilion (the only country to do so). To my regret, its top restaurant (the Restaurant Marrakesh) has not yet re-opened. (One of the world's great cuisines!)

Walt Disney World, Kissimmee, Florida.
Are you curious about how do we review content on Jigidi?

At Jigidi, we celebrate what connects us and steer clear of divisive content because how we meet each other matters. It forms us. When we review the content, we use four 'lenses' and look for what the image or comment is most.