Here is one of the Kitten's we Rescued in Concord, California July 4, 2016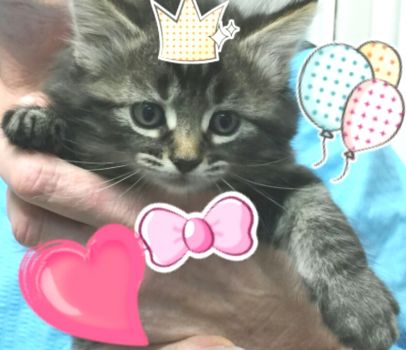 Why are you reporting this puzzle?
This is a little girl all dressed up and nowhere to go! She is one of the Kittens we rescued that day on July 4, 2016. Now they have their independence!

The Mama Kitty was just 6-7 months old herself, and sad to say, she died shortly after we rescued the babies for her. Her babies were safe, and she could go to Kitty Heaven. A very sad ending to such a happy time of rescuing the Kittens.

The story about the Mama Kitty is, my neighbor 'Karen' had a visitor at her door - it was the Mama Kitty - "Zoe" is the name that Karen gave her. Karen could see that Zoe was very pregnant, and took her immediately to the Vet. Then, Karen noticed Zoe's belly was smaller, and realized she had the kittens somewhere. One day, I received a call and it was true; Zoe got into my storage area and had her babies there. At least she and the babies were safe from harm. When I opened the door...there was the first Kitten. I spoke to Zoe and told her to take us to the rest of her babies. Zoe did exactly that. Six (6) Kittens later, the family was rescued!

What a relief to have animals safe and happy! Have your pet Spayed or Neutered. It's a great idea!

God Bless All Animals! Peace unto All!