"What y'all doing?"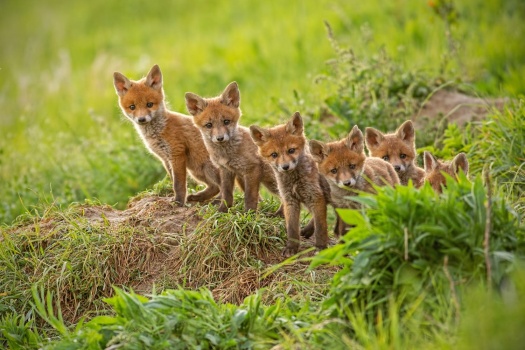 Why are you reporting this puzzle?
Red foxes
are about three feet long and two feet tall and have beautiful fluffy tails, which aids their balance, serves as a cover in cold weather and communicate with fellow foxes. They live in diverse habitats and are generally very adaptable.
They can be found throughout the Northern Hemisphere. They like to eat rodents, birds and rabbits, but they are pretty flexible and resourceful when their favoured eatables are not within reach.
The red fox is social to the extent they live together in pairs or small groups consisting of families. And when they mate in the winter, and the female brings their cubs (up to 12 pups per litter) into the world after 51- 53 days, both the male and the female will care for their cubs till the fall when the young red fox will take on the world on its own. This beautiful pack are still together, and what a sight for sore eyes they are! ♥
Are you a competitive or more a meditative solver?

You can adjust whether to have the timer show or not when you solve your puzzles. You'll find how to in our puzzle player guide.