Trumpeter Swan, Lake San Marcos, San Marcos, California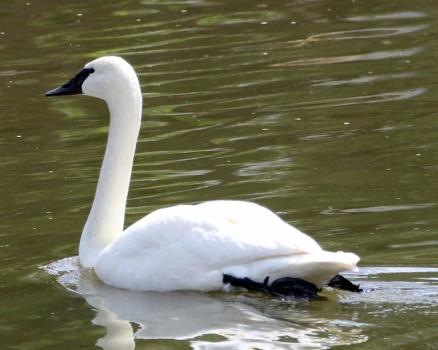 Why are you reporting this puzzle?
I had never been to Lake San Marcos, but a woman I see on the coastal trails I patrol told me there was a pair of black swans on a nest there so I met up with her one morning to go see them. She knew there were white swans too and we saw a pair at the far end of the lake. It's private, so we couldn't get any closer to them. While we were watching black-crowned night herons and snowy egrets gather nesting material and fly to a big tree across the street, this white swan swam out from under the bridge. I didn't see him right away, so I only got a few shots before he had his back turned to me. I did some googling when I got home and he is probably one of, or a descendant of, four trumpeter swans that were released in 2014 in memory of a local man, Ken Beall.

https://www.sandiegouniontribune.com/sdut-mating-swans-releaased-ken-beall-lake-san-marcos-2014dec05-story.html
Are you a competitive or more a meditative solver?

You can adjust whether to have the timer show or not when you solve your puzzles. You'll find how to in our puzzle player guide.