Felix Schlesinger, "A Tasty Treat"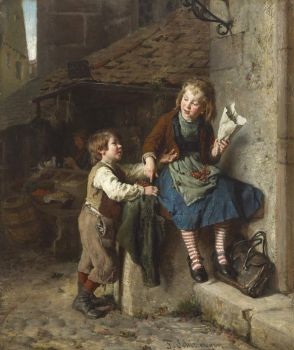 Why are you reporting this puzzle?
Felix Schlesinger was born in 1833, in a family of painters. In 1848, he received his first artistic training from Friedrich Heimerdinger at his birthplace Hamburg, later in Antwerp, at the Düsseldorf Art Academy, and in Paris. Between 1861 and 1863 he worked mainly in Frankfurt am Main, before he finally settled in Munich. Here he gradually established himself as a genre painter who regularly exhibited his paintings in Munich, Dresden, Vienna and Berlin. Schlesinger mainly devoted himself to the subject of family life and children in the countryside. Although little is known about his private life, the depictions of the children in his paintings suggest that Schlesinger himself was a husband and a father, and that his own children can be seen in the pictures. Over the years the same children appear at different ages of their life, which could give an indication of when the pictures were painted. In his early days his works leaned towards the narrative language of his early teachers, and later he pursued a style that was more inclined towards realism. After moving to Munich, his work became increasingly naturalistic and expressive. Schlesinger died in 1910 at the age of 77. His humorous, sensitive depictions of the everyday life of children, appealed to the taste of many collectors, particularly in the UK and US, and his paintings are still very popular nowadays. In addition, his works are found in numerous public collections, among others the Stedelijk Museum of Amsterdam, the Kunsthalle of Hamburg and the Milwaukee Art Museum in the US-State of Wisconsin.