Maine's Best Known Foods/Drinks (#1)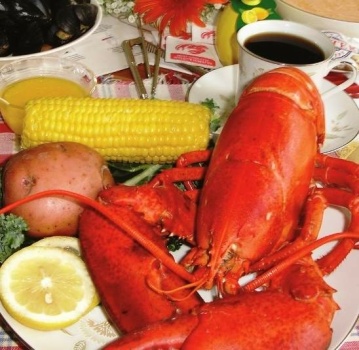 Why are you reporting this puzzle?
Maine Lobster:

This bright red crustacean was once considered the "poor man's chicken" and was even used as fertilizer. During the early 1800s, lobsters were so plentiful that they would wash ashore in piles up to two feet high. Because of their abundance lobsters were used to feed laborers, as the meat was cheap and easy to prepare.

It was the New Yorkers and Bostonians that really gave the Maine lobster its place on the culinary map, after they developed a taste of its deliciously sweet and succulent meat. Lobsters nowadays are somewhat synonymous with exclusive restaurants and expensive buffets. We imagine them nestled amongst leafy green salads, drizzled with butter sauces, displayed on pure white porcelain and handled with gold cutlery. Lobster throughout history has been prized as a delicacy, especially throughout Western Europe, as their history stretches from Roman banquet halls to feasts thrown by Tudor monarchs.

Today, lobster meat is revered as a delicacy and perceived as a luxury food item. Residing off the northern coast, this lobster is well-known for its large claws, which are bountiful with meat. The cool waters of Maine make this lobster sweet and tender. Most of Maine's lobster exports go to Europe and Asia.

Lobsters are caught in traps, marked by colorful buoys to identify the traps' owners. When the lobsters are taken from the trap, they are "banded" with strong rubber bands. Sometimes you might see wooden plugs inserted into the base of the claw.

The State of Maine has very strict laws governing lobstering. Lobster traps may not be hauled at night and on Sundays during June through August in Maine waters (since 1967.) In Maine it is illegal to keep lobsters under and over a certain size. Lobstermen use a special gauge to accurately measure the length of the lobster's carapace (body) – from the eye socket to the beginning of the tail to ensure legal compliance.
How does the notifications system work?

When you hold an account on Jigidi, you will receive notifications when someone tags you, upon a new comment on a puzzle you follow and upon new puzzles from a puzzle creator you follow.