Early Morning Activity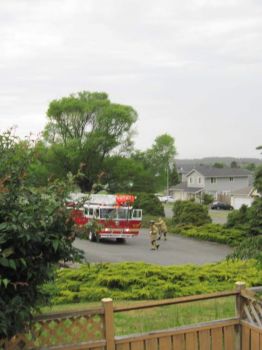 Why are you reporting this puzzle?
Early AM, I looked out toward the child care center behind my home. Saw a light mist looking plume of smoke. Thought maybe the vent from a furnace/clothes dryer? After sometime I saw larger "PUFFS" of smoke........oh oh, I remembered people were repairing the roof yesterday using blow torches. Called Oak Harbor dispatch and told them someone better go and take a look. ER people arrived. Fire chief came by and told me they could not see anything. Invited him in and showed him what I was seeing. My house looks down on a the bldg's flat roof. Sure enough roof and part of a wall were burning (so glad it was not windy as I think the fire was looking for oxygen to get really going).