Fine Art - The Meeting on the Turret Stairs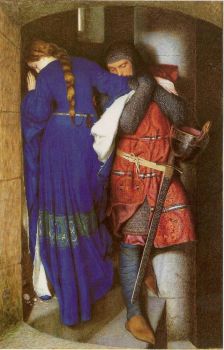 Why are you reporting this puzzle?
This richly coloured watercolour painting by Frederic William Burton depicts the ill-fated lovers Hellelil + Hildebrand, meeting on the stone stairway of a medieval tower. The princess + her bodyguard had fallen in love but her father regarded the young soldier as an unsuitable match for his daughter and ordered his sons to kill him. The painting captures the couple's poignant final embrace. Burton was inspired by the story of the ill-fated lovers told in an old Danish ballad. The poem had been translated into English in 1855 by Whitley Stokes, a lawyer, philologist + friend of the artist.