Themes "Summer bliss" - Paul Signac (to Julia P.)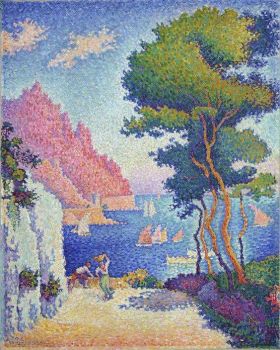 Why are you reporting this puzzle?
Paul Signac (1863-1935) was a French Neo-Impressionist painter who, working with Georges Seurat, helped develop the Pointillist style.
He was born in Paris on November 11, 1863. He followed a course of training in architecture before deciding at the age of 18 to pursue a career as a painter.
Signac loved sailing and began to travel in 1892, sailing a small boat to almost all the ports of France, to the Netherlands, and on the Mediterranean Sea as far as Istanbul, basing his boat at St. Tropez, which he later would make popular to other artists. From his various ports of call, Signac brought back vibrant, colorful watercolors, sketched rapidly from nature.
The above painting is from Capo di Noli, 1898.

Pointillism is a technique of painting in which small, distinct dots of color are applied in patterns to form an image. Georges Seurat and Paul Signac developed the technique in 1886, branching from Impressionism. The term "Pointillism" was coined by art critics in the late 1880s to ridicule the works of these artists, but is now used without its earlier mocking connotation.

This afternoon (19/6/20) my beloved mother-in-law (Julia P.) died at the age of 93. She passed away at her home, in her sleep. This painting is for her, she loved seascapes and Paul Signac.