Absinthe #5 - Absinthe fountain - 5th in a series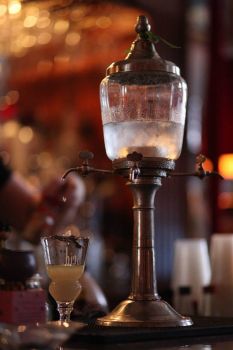 Why are you reporting this puzzle?
In 19th century Parisian cafés, upon receiving an order for an absinthe, a waiter would present the patron with a dose of absinthe in a suitable glass, sugar, absinthe spoon, and a carafe of iced water.

It was up to the patron to prepare the drink, as the inclusion or omission of sugar was strictly an individual preference, as was the amount of water used.