Brer Rabbit Goes Back to Mr. Man's Garden ~ Jerry Pinkney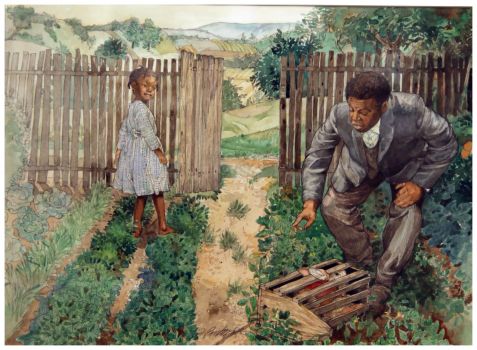 Why are you reporting this puzzle?
African-American artist Jerry Pinkney has been illustrating books for young and old since 1964, completing over one hundred titles. He has received five Coretta Scott King Awards, five Caldecott Honors, and the 2010 Caldecott Medal for his adaptation of The Lion and the Mouse (2009). His books have been translated into sixteen languages and published in fourteen countries. In 2011, he was elected into the Society of Illustrators Hall of Fame.

In addition to his work with children's books, Mr. Pinkney has exhibited in over 130 solo and group shows, and conducts workshops with schools and teachers throughout the country. An inspiration to many, Mr. Pinkney openly shares insights and understanding into his experience with dyslexia and how it has shaped his life.

In 1987, an enduring collaboration was launched when Pinkney was invited to illustrate The Tales of Uncle Remus, retold by author Julius Lester. Working to capture the spirit of these stories, Pinkney and Lester left stereotypes behind, and explored new cultural narratives.