Snowy Delight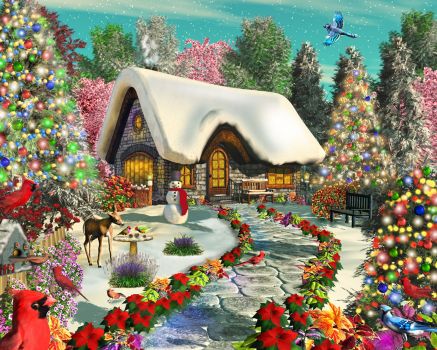 Why are you reporting this puzzle?
Artist: Caplyn Dor

Caplyn Dor is an award-winning fine artist, surrealist and graphic illustrator who has had numerous national and international art shows and was awarded a creative artist fellowship from the New York State Council on the Arts. Through this award, she was able to have a father and daughter art show which she will treasure forever. Her work has graced the covers of magazines, she is included in Who's Who of American Women and has illustrated two children's books. Caplyn lives in western New York with her husband, Ken.
How many accounts can a person have on Jigidi?

1 account; or 2 if you have a creative need for a second account - but this requires transparency in your profile descriptions that you hold both accounts. To trust each other and interact with our shoulders down and hearts soft, we all must know with whom we are communicating.

Read more about what to do if you have more than one account on Jigidi.