DINOSAUR COMICS Live life to the fullest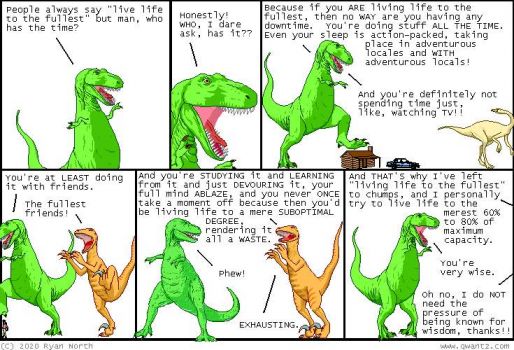 Why are you reporting this puzzle?
From the brilliant "Dinosaur Comics," a constrained webcomic by Canadian writer Ryan North. For years now, the illustration is always the same thing, but the dialogue changes. He's funny as hell, and he encourages us to copy and paste them anywhere.

From Wikipedia, the cast are:

T-Rex, the main character that appears in all six panels.

Utahraptor, T-Rex's comic foil, appears in the fourth and fifth panels of the comic.

Dromiceiomimus appears in the third panel. She is generally friendly to T-Rex, answering either neutrally or with mild, friendly criticism.

The tiny woman in panel four and the house in panel three have contributed dialogue but are usually silent.

Other unseen characters occasionally contribute dialogue. For example, "God" speaks from off panel in bold all-caps, "Satan" speaks from off panel in dark red all-caps, T-Rex's sinister neighbours (raccoons and cephalopods) speak in italicized all-caps from off panel.