Lighthouse Keeper Eugen Coleman and his cat Sambo Tonkus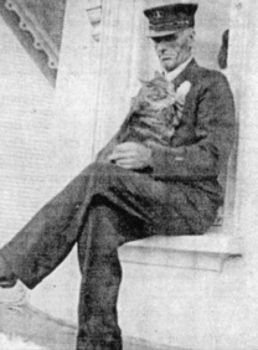 Why are you reporting this puzzle?
See https://www.jigidi.com/jigsaw-puzzle/YL2ZSIK5/Cape-Neddick-Lighthouse-Maine for a picture of the Nubble Lighthouse in York, Maine. Sambo was a famous lighthouse cat who lived there.

"Around 1929, Sambo Tonkus (Mr. T) was born at the Nubble Lighthouse. Sambo stayed at Nubble even when the keepers changed. The ginger-striped tabby grew to be a hefty twenty pounds. After clearing the island of its rodents, he decided to go to the mainland for more. Sambo would saunter down to the water's edge, wade in, and swim over the channel to the mainland. A few hours later, he'd return with a mouse in his jaws before swimming back to the lighthouse island with his dinner. As word spread of his exploits, tourists lined the shore waiting for Sambo to make his swim so they could take pictures of the event."

I was delighted to find a photo and the story of Sambo at http://pathwayheart.com/the-lighthouse-cat/ .