Nature's bounty, August 13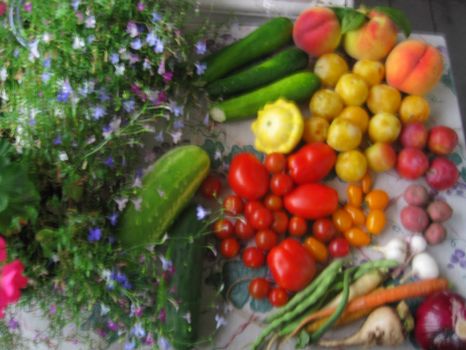 Why are you reporting this puzzle?
The flowers are mine, but the rest is produce, fruit and veg, grown by local homeowners and shared at the Tuesday afternoon local cornucopia. I live in a rural town of about 11,000 people in an agricultural region of orchards and vineyards, nestled in a narrow valley filled with a very long, deep lake, and with high plateau on all sides.

A marvellous local woman got the idea that so many gardens and fruit trees produce more than an individual gardener or homeowner can eat / can / freeze / give away. So every Tuesday afternoon she operates a booth in the parking lot of the local United Church (whose basement also hosts the local Food Bank of Tuesday afternoons) and locals come by and drop off literally hundreds of pounds of produce every Tuesday, to share with locals, for free.

I only take what I can use, and leave enough for everyone else, so this is a decent indication of how much produce gets brought in.

Sorry it's a little out of focus, it was after sunset when I took this, so it's not as sharp as it could be. Then again, it still makes for a neat picture of a marvellous idea hatched up by a marvellous woman.